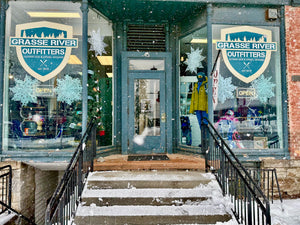 45 Main Street, Canton NY
Gifts, Maps & Books
Quality Brands
Testimonials
This is our go to local store for outdoor gear big and small. We were especially grateful to have found a great pair of XC skis for our son due to the owner going above and beyond in communicating availability. Quality products, good costumer service, great store.

Becky H.
I love this store! Great selection and high quality brands with super friendly staff and owners. We have gotten clothing, hats, snow shoes and cross country skis here. Highly recommend.

Jessica C.
Excellent bike shop services!! Very knowledgeable and helpful team over at Grass River Outfitters. Sean is the man!! Thanks for keeping the North Country out recreating & enjoying life, Grass River team!

Ben B.
Sean completely tore down and rebuilt my trusty old mountain bike that was sorely neglected. He was pleasant to work with and did great work in a timely manner. Highly recommend for anyone needing bike repairs.

Bruce B.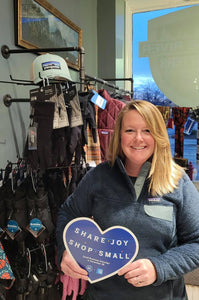 Locally-Owned Outdoor Gear Shop
Welcome to Grasse River Outfitters, where we deliver the best outdoor gear products with unparalleled service.
Brooke Rouse established Grasse River Outfitters in 2018 to fill a need - to help people 'Gear Up and Get Outside'.
Life in the North Country is best embraced outdoors. Our shop is designed to carry high quality brands, from essentials to novelties. We are a small shop with big adventures, featuring what you need for the season.
NOTE: GRO opened as a consignment shop in December 2018 and relaunched in 2020 with a new business model; all NEW gear and apparel as well as bike service and ski tuning. Visit us to see the change!